---
The Community Economic Development Plan of 1993 and The EDCUinc Collectively Represent THE First International Economic Program Since The GARVEYISM OF THE 1900'S!
THE PLAN WILL WORK!
---
TEST YOUR PROBLEM SOLVING SKILLS – HAVE FUN WHILE YOU TRY TO CONNECT THE DOTS
---
BeTheChangeYouWantToSee!
Who's Emmett Abati Doe?
Community Economic Development Plan 1993
---
TAKE THE NEXT STEPS
Learn Why a Home-Based Business Beats Working Harder or Getting a Second Job.
(Available to U.S.A. and Canadian Tax Payers Only)
(click image to view video)
"With the tax benefits you get by having your own home-based business you can have more net spendable income in your first year even if you don't actually make money. Many people quit before their business ever has a chance to get going. Big mistake!"- Sandy Botkin, TAXBOT
---
"...WHAT'S YOUR EXCUSE?" – Les Brown
---
EDCU Information and Sign-up Portal
Introduction and Sign-Up Portal for Global Domains International – GDI and EDCU/Emmett Abati Doe.

(click image to view video)

Notice: ONLY USE your sponsors GDI Sign-Up Portal/Link. Make sure your sponsor's name appears in the upper right corner of the 1st Sign-Up Field. Questions: Contact your EDC/Affiliate/Sponsor.
---
THE GDI 2-PLAN INCOME CALCULATOR
THE NEW GDI 2 - INCOME PLAN CALCULATOR: TEACH 10 - FIVE DEEP!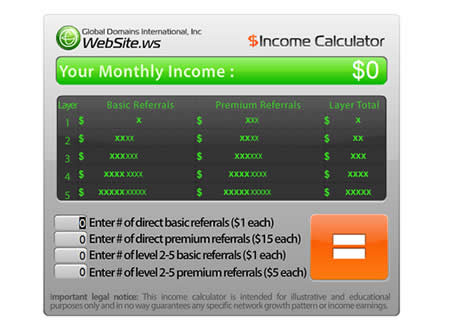 SEE WHAT YOUR INCOME (in addition to your immediate Tax Savings – if applicable) YOUR EDCUinc/GDI HOME-BASED BUSINESS COULD PRODUCE FOR YOU OR ANY GROUP.

NOTICE: PLACE NUMBER IN ONLY TWO CORRESPONDING FIELDS - THEN CLICK THE EQUAL SIGN ' = ' ORANGE GRAPHIC.
---
Questions or Comments Contact:
Your EDC/Sponsor or Emmett Abati Doe at Email:
doe@edcu.ws | 1-800-881-0472

I'm An EDC, How 'bout You?
---
Report Site Problems to: report@edcu.ws